Venice Home Search and Neighborhood Info
Venice has its share of skateboard-riding, flip-flop-wearing, surf-loving residents, to be sure. But the true in-crowds reside in the area's many walk-street enclaves, it's famed canals, Winward Circle and Abbott Kinney neighborhoods. These neighborhoods are home to the remaining Venetian-inspired buildings built when Venice was founded. Venice offers high-density living in relative seclusion from nearby suburban sprawl. Where mostly lower-income singles used to live, affluent families often reside today.

Venice is bordered by the Pacific Ocean on the southwest and by Marina del Rey on the southeast, by Culver City and Mar Vista on the east and Santa Monica on the north.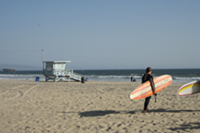 Points of Interest
Venice Beach
Encompassing the boardwalk, Muscle Beach, the handball, paddle tennis and volleyball courts, Skate Dancing plaza, bike trail and many shops, restaurants, street venders and performers Venice Beach offers year-round entertainment for tourists, locals alike.


Venice Canals
The Venice Canals are a hidden treasure, little known even by residents of Los Angeles. Created by developer Abbot Kinney as both a tribute to the original Venice, Italy, and as a way to drain the marshes to aid in development, many of the original canals were paved over as the city grew. About eight blocks of homes still remain on the canals, coexisting with wild ducks and swans in a peaceful oasis in the middle of the city.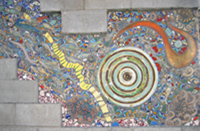 Neighborhoods
Downtown
The "Downtown" district encompasses the area along Abbot Kinney, Grand Boulevards and Mainstreet. Having known heydays in the 40's and again in the 1960's when hippie culture dominated Venice, Downtown Venice has again become popular for it's many bars, nightclubs, art galleries, custom clothing shops and architecture.


Oakwood
Known as the "Oakwood Pentagon", Oakwood lies inland several blocks from the tourist areas. Historically, it is one of the few predominately African American and Latino areas in West Los Angeles. The gentrification that began three decades ago around Venice's famous canals has pushed inland into the Oakwood area, as urban professionals and Hollywood types sought that perfect Craftsman to restore or the ideal lot on which to build a designer home.



East Venice
East Venice is a racially and ethnically mixed, residential neighborhood of Venice that is separated from Oakwood and Milwood (the area south of Oakwood) by Lincoln Boulevard, extending east to the border with Mar Vista, near Venice High School. Aside from the commercial strip on Lincoln (including the Venice Boys and Girls Club and the Venice United Methodist Church), the area almost entirely consists of small homes and apartments as well as Penmar Park and (bordering Santa Monica) Penmar Golf Course. The existing population (primarily composed of non-Latino whites, Latinos, and Asians, with small numbers of other groups) is being supplemented by new arrivals who have moved in with gentrification.
Restaurants
View Urban Spoon's list of the best Venice restaurants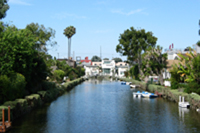 Schools
Public Schools
Venice schools are served by the Los Angeles Unified School District, Board District #4.
Private Schools
Community Statistics
People
Population: 31,307
Population Density: 11,813
Median Age: 36.8
Married: 34.07%
Single: 65.93%
Average Household Size: 1.68 people
Median Household Income: $56,219
Housing
Median Home Age: 30 Years
Median Home Cost: $727,970
Home Appreciation: -23.90%
Homes Owned: 26.20%
Property Tax Rate: $8.38
Climate
Rainfall (in.): 13.2
Precipitation Days: 24
Sunny Days: 264
Elevation: 79 ft.
Education
School Expenditure per Student: $5,782
Pupil/Teacher Ration: 17
High School Grads: 94.65%
2 Yr. College Grads: 5.96%
4 Yr. College Grads: 35.92%
Graduate Degrees:23.25%
Voting
Democrat: 63.102%
Republican: 35.598%
Independent Other: .282%
Independent Liberal: .409%
Independent Conservatives: .609%