Mar Vista Home Search and Neighborhood Info
As prices in other parts of the Westside have grown out of reach for many house hunters, Mar Vista has remained one of the few areas to stay relatively affordable. Mar Vista is a family-oriented community where joggers, dog-walkers, and baby strollers are part of the daily scene. In addition to local restaurants and shopping, residents have easy access to trendy Abbot Kinney Boulevard in Venice.

Mar Vista is an economically diverse neighborhood of apartment buildings and single-family homes. The hilly areas near its border with Santa Monica, whose spectacular ocean views give Mar Vista its name, hold some of the most expensive land in the community.

Mar Vista is bordered by Santa Monica to the north, Palms and Culver City to the east, Marina del Rey to the southwest and Venice to the south.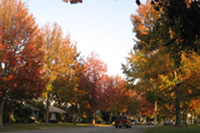 Points of Interest
Mar Vista Farmer's Market
Fresh Produce and more every Sunday at Grand View and Venice Blvd.


Cultural Monument
Mar Vista's cultural monument is a tree, the Moreton Bay Fig Tree on National Blvd and Military Ave. It was planted in 1875.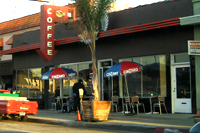 Neighborhoods
Westdale
Westdale is a quiet neighborhood that first developed as World War II GIs were returning home. Developer Paul W. Trousdale, purchased a tract of 450 single-story homes in 1947 that offered 5 varying floor plans. In time 2 more tracts boosted the amount of homes to approximately 900. These homes were sold at prices of $14,500 to $16,500. The neighborhood of Westdale is quaint and quiet with streets lined with pines, purple-blossom jacarandas, and liquid amber trees that were originally planted.

Westdale is situated west of I-405, with Palms Boulevard to the south, Inglewood Boulevard to the west, National Boulevard to the north, and Sawtelle Boulevard to the east. It is easy to access the 405 freeway as well as the 10 freeway from Westdale, but because of dead-end streets commuters are unable to access shortcuts in the residential area.


Restaurants
View Yelp's list of the best Mar Vista restaurants
Schools
Public Schools
Private Schools
Mar Vista schools are served by the Los Angeles Unified School District, Board District #4.








Community Statistics
People
Population: 57,190
Population Density: 10,417
Median Age: 37.7
Married: 48.28%
Single: 51.72%
Average Household Size: 2.26 people
Median Household Income: $52,730
Housing
Median Home Age: 43 Years
Median Home Cost: $688,390
Home Appreciation: -21%
Homes Owned: 38%
Property Tax Rate: $8.38
Climate
Rainfall (in.): 13.2
Precipitation Days: 27
Sunny Days: 264
Elevation: 75 ft.
Education
School Expenditure per Student: $5,770
Pupil/Teacher Ration: 19
High School Grads: 81.46%
2 Yr. College Grads: 6.19%
4 Yr. College Grads: 24.83%
Graduate Degrees:14.31%
Voting
Democrat: 63.102%
Republican: 35.598%
Independent Other: .282%
Independent Liberal: .409%
Independent Conservatives: .609%