Malibu Home Search and Neighborhood Info
The city of Malibu is a 21-mile stretch of the California coastline from Santa Monica to Ventura County. Famous for its laid-back attitude, natural beauty and celebrities, Malibu residents live in close contact with the Pacific, whether they live high up on the hillside overlooking the entire coastline or right on the beach itself.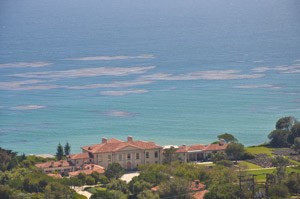 Points of Interest
Beaches
From pocketed coves with tide pools to wide sandy beaches, Malibu has it all: Leo Cabrillo, Zuma, Carbon Beach, Paradise Cove, Escondido Beach, Surfrider Beach, Broad Beach, Pirate's Cove, Westward Beach, Zuma Beach, Trancas, El Pescador, La Piedra and El Matador.


Malibu Creek State Park
There are 15 miles of streamside trail through oak and sycamore woodlands and chaparral-covered slopes. Twenty-five-mile Malibu Creek in the park is the principal water-course of the Santa Monica Mountains - from Boney Mountain to Malibu Lagoon. The park was the center of Chumash Native American life for centuries and was once used to film numerous movies and TV shows, such as Planet of the Apes and M*A*S*H.


Santa Monica Mountains National Recreation Area
Santa Monica Mountains NRA runs for 46 miles from the Hollywood Bowl to Point Mugu in Ventura County, from the Santa Monica Pier to west past Malibu. he park is mostly a Mediterranean broadleaf evergreen forest. Roughly 450 vertebrate species of animals and 13 nesting raptor species call it home at one time or another. Critters include mountain lions, coyotes, bobcats, deer, hawks, falcons and eagles. Twenty-five area species are listed as rare, threatened or endangered (with more expected to join the list in upcoming years).


Pepperdine University
Pepperdine University is a Christian, independent, medium-sized university enrolling approximately 8,300 students in five colleges and schools. Seaver College, the School of Law, the Graduate School of Education and Psychology, the Graziadio School of Business and Management, and the School of Public Policy are located on the University's 830-acre campus overlooking the Pacific Ocean in Malibu.


Neighborhoods
The Malibu Colony
The Malibu Colony is a gated community, with multi-million dollar homes on small lots. The Colony commands breathtaking views of the Pacific Ocean, affording a spectacular coastline view stretching from Santa Monica to Rancho Palos Verdes to the south (known locally as the Queen's Necklace and the bluffs of Point Dume to the north.


Restaurants
Schools
Public Schools

Malibu schools are served by the Santa Monica-Malibu Unified School District.






Private Schools
Community Statistics
People

Population: 13,041
Population Density: 13,041
Median Age: 44.1
Married: 57.42%
Single: 42.58%
Average Household Size: 2.43 people
Median Household Income: 116,193
Housing

Median Home Age: 32 Years
Median Home Cost: $1,633,900
Home Appreciation: -23.90%
Homes Owned:61.37%
Property Tax Rate: $8.38
Climate

Rainfall (in.): 21.6
Precipitation Days: 32
Sunny Days: 281
Elevation: 1,600 ft.
Education

School Expenditure per Student: $6,251
Pupil/Teacher Ration: 21
High School Grads: 96.70%
2 Yr. College Grads: 4.35%
4 Yr. College Grads: 32.95%
Graduate Degrees: 26.89%
Voting

Democrat: 63.102%
Republican: 35.598%
Independent Other: .282%
Independent Liberal: .409%
Independent Conservatives: .609%