Brentwood Home Search
Running west from Bel Air and the San Diego Freeway all the way to the Pacific Palisades, Brentwood is a community set in the foothills above and below Sunset Boulevard. Consisting of many California Ranch, and Spanish style homes on large lots with beautiful, well kept gardens, Brentwood's residents work hard to maintain the areas exclusivity and affluent reputation. Bisected by Sunset Boulevard, Brentwood consists of very large homes to the north, many of them gated, and small to medium sized homes to the south along with high quality condominiums and apartments.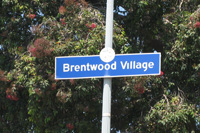 Points of Interest
Brentwood Country Mart
An early farmer's market complex built in 1947 located in the Brentwood Village, a small shopping district near the intersection of Sunset and Barrington.


Brentwood Country Club
This 6,248-yard golf course that features water on 16 of its 18 holes is a popular jogging spot for Westside locals.


The J. Paul Getty Museum
Located in the Getty Center, The J. Paul Getty Museum in Los Angeles houses European paintings, drawings, sculpture, illuminated manuscripts, decorative arts, and European and American photographs.


Santa Monica Mountains
The fire roads found here are great for mountain biking and hiking and can be accessed at the top of Sullivan Canyon and Westridge.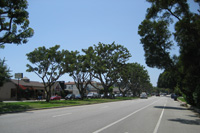 Neighborhoods
Brentwood Circle
A Gated community east of Barrington and north of Sunset with large, luxurious estates.


Brentwood Country Estates
A gated community in Mandeville Canyon.


Brentwood Hills
Home to Mount St. Mary's College and the Getty Center.


Crestwood Hills
This neighborhood includes several architecturally significant mid-century modern homes, located in the northern part of Kenter Canyon.


Mandeville Canyon
Mandeville Canyon offers a tranquil country-like setting amongst multi-million dollar estates.

Sullivan Canyon
Most properties in this small community north of Sunset and west of Mandeville Canyon are one story ranch style homes and most have horse stables.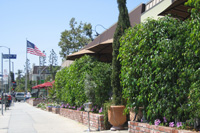 Restaurants
best Brentwood restaurants
View Urban Spoon's list of the
Schools
Public Schools
Los Angeles Unified School District
Local District 4
Private Schools
The, provides education at both the primary and the secondary levels.







Community Statistics
People
Population: 34,910
Population Density: 2,318
Median Age: 42.6
Married: 47.7%
Single: 52.30%
Average Household Size: 2.01 people
Median Household Income: $96,169
Housing
Median Home Age: 41 Years
Median Home Cost: $2,161,190
Home Appreciation: -28.10%
Homes Owned: 49.29%
Property Tax Rate: $8.38
Climate
Rainfall (in.): 18.4
Precipitation Days: 26
Sunny Days: 281
Elevation: 1103 ft.
Education
School Expenditure per Student: $5862
Pupil/Teacher Ration: 22
High School Grads: 96.65%
2 Yr. College Grads: 3.08%
4 Yr. College Grads: 36.99%
Graduate Degrees: 33.01%
Voting
Democrat: 63.102%
Republican: 35.598%
Independent Other: .282%
Independent Liberal: .409%
Independent Conservatives: .609%